Bite Somebody Else by Sara Dobie Bauer, the hilarious sequel to Bite Somebody, is the undead rom-com you didn't know you needed – and it's in stores TODAY!
Imogene helped her newbie vampire friend Celia hook up with an adorable human, but now Celia has dropped an atomic bomb of surprise: she has a possibly blood-sucking baby on the way. Imogene is not pleased, especially when a mysterious, ancient, and annoyingly gorgeous vampire historian shows up to monitor Celia's unprecedented pregnancy.

Lord Nicholas Christopher Cuthbert III is everything Imogene hates: posh, mannerly, and totally uninterested in her. Plus, she thinks he's hiding something. So what if he smells like a fresh garden and looks like a rich boarding school kid just begging to be debauched? Imogene has self-control. Or something.

As Celia's pregnancy progresses at a freakishly fast pace, Imogene and Nicholas play an ever-escalating game of will they or won't they, until his sexy maker shows up on Admiral Key, forcing Nicholas to reveal his true intentions toward Celia's soon-to-arrive infant.
Here's what you will find within the pages of Bite Somebody Else:
1. Literal LOLs. Both of these books are some of the funniest I've ever read, and Bauer keeps the laughs coming just as well in this sequel.
2. Sexy times. These are adult books, but the sexy scenes are fairly clean – though Imogene's urges and desires are far from tame. (What I mean to say is: this book has swoony romance and smexy fun times, but it's not as smutty as, say, the ACOTAR series.)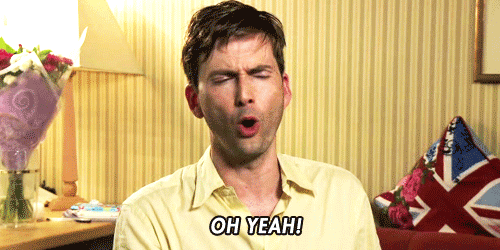 3. Bad-Ass Ladies. The women in Bite Somebody Else are really fantastic, diverse characters — each with their own personality quirks, desires, urges, and passions. But the one thing they all have in common is their unwillingness to take crap from anybody. Hell yeah! They would all probably fist-pump at the new "Wonder Woman" movie as much as I did.
4. A fun escape! More than anything else, this book is just a fun escape from reality. Bauer takes you to the warm, sandy beaches of Florida – where the booze is always flowing and fruity-flavored, and the guys are even hotter than the weather.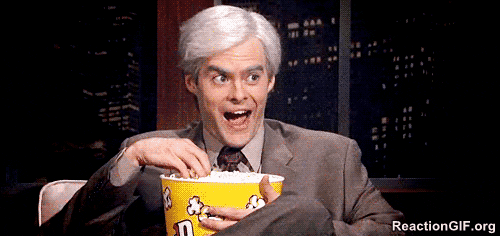 Funny, sexy, and whip-smart, Bite Somebody Else is a hilarious romp through the trials of vampire romance and what it means to be your own hero and still fall for the swoony British guy.
That last gif is for the author. 😉 Bite Somebody Else is available now!
Amazon | Barnes & Noble | World Weaver Press
Save
Save
Save
Save