It seems like everywhere you turn these days, people can't stop talking about Alexander Hamilton. It's Hamilton Fever! From the hit Broadway musical, to a growing roster of other creative works inspired by the revolutionary figure, it seems like Hamilton is everywhere.
And yes, he's even on the shelves of the Young Adult section at your local bookstore — currently in the form of Alex & Eliza by Melissa de la Cruz, a fictionalized account of the romance between Alexander Hamilton and Elizabeth Schuyler. This book is in stores now, but today we're giving away a copy to one of you lucky folks — but first, here's a little peek at the real historical figures that inspired Alex & Eliza.
Alexander Hamilton

Born a Bastard: Alexander Hamilton was born in Caribbean to an unwed mother in 1755 (or in 1757 – history isn't clear)
Already abandoned by his father, he was orphaned in 1768 when his mother died
He moved to New York City in 1772 for his education, attending King's College – which would eventually become Columbia University.
Hamilton never graduated college, however, due to the British occupation – but he would eventually pass the bar exam in 1782 after completing his studies on his own.
Hamilton first became involved in the Revolutionary War as part of a volunteer militia in NYC
After making a name for himself on the battlefield, Hamilton eventually accepted a post as General Washington's "right hand man"
Under President Washington, Hamilton served as our country's first Secretary of the Treasury
Hamilton also had a significant role in the writing of The Federalist Papers, a series of essays defending the U.S. Constitution prior to its ratification.
As Secretary of the Treasury, Hamilton helped form the National Bank and the U.S. Mint.
During the presidential election of 1800, Hamilton threw his support behind Thomas Jefferson, despite their many ideological differences, because he thought Aaron Burr would be an even worse choice
He later campaigned to see Burr defeated in the 1804 New York gubernatorial race.
At this point, Burr was pretty PO'd at Hamilton and challenged him to their now infamous duel.
Hamilton died July 12, 1804 – one day after his duel with Burr, as a result of wounds from Burr's gunshot.
This is truly just a quick glimpse into the very rich life of Alexander Hamilton. To learn more about him, keep your eyes peeled for Martha Brockenbrough's Alexander Hamilton, Revolutionary, in stores this fall.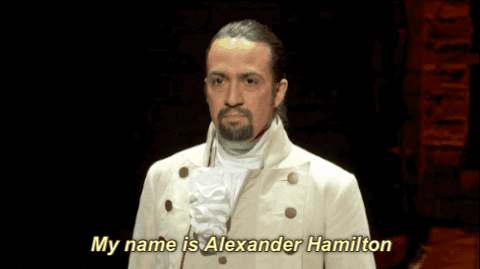 Elizabeth Schuyler
Elizabeth Schuyler was born in 1757 in Albany, New York to Revolutionary War general Philip Schuyler. (Her birthday was August 9th – same as ME!)
Her family was one of the wealthiest & most influential in New York state; of Dutch decent, the family settled in the Albany area in the mid-1600s.
After Hamilton's death, Eliza never remarried.
Instead, she and several other women founded the New York Orphan Asylum Society — which still exists today as a social service agency for children, now called Graham Windham.
She also worked to preserve Hamilton's legacy — re-organizing his many writings and letters, and worked to get his biography published.
Eliza continued to support various charitable causes, even into her 90s when she helped raise money to build the Washington Monument.
She died November 9, 1854 at the age of 97!
Alexander & Elizabeth
Hamilton met Eliza while he was stationed in Morristown, New Jersey between 1779-1780.
They were married on December 14, 1780
Together, they had eight children
During their marriage, Eliza often helped her husband throughout his political career and with his many writings. In fact, many of his letters can be found in Eliza's handwriting!
Their marriage was not perfect; the couple spent some time apart in 1797 after Eliza learned about a year-long affair Hamilton had with another woman years earlier.
(This affair is often considered the first public sex scandal involving a U.S. politician!)
Two of their sons were named Philip; their eldest son Philip died in a duel in 1801. A year after his death, they named their youngest newborn after him.
After Hamilton's death, it's said that Eliza wore a small package around her neck containing pieces of a sonnet he had written for her during their courtship.
1777. Albany, New York.

As battle cries of the American Revolution echo in the distance, servants flutter about preparing for one of New York society's biggest events: the Schuylers' grand ball. Descended from two of the oldest and most distinguished bloodlines in New York, the Schuylers are proud to be one of their fledgling country's founding families, and even prouder still of their three daughters—Angelica, with her razor-sharp wit; Peggy, with her dazzling looks; and Eliza, whose beauty and charm rival that of both her sisters, though she'd rather be aiding the colonists' cause than dressing up for some silly ball.

Still, she can barely contain her excitement when she hears of the arrival of one Alexander Hamilton, a mysterious, rakish young colonel and General George Washington's right-hand man. Though Alex has arrived as the bearer of bad news for the Schuylers, he can't believe his luck—as an orphan, and a bastard one at that—to be in such esteemed company. And when Alex and Eliza meet that fateful night, so begins an epic love story that would forever change the course of American history.

In the pages of Alex and Eliza, #1 New York Times bestselling author Melissa de la Cruz brings to life the romance of young Alexander Hamilton and Elizabeth Schuyler.
We're giving away one copy of Alex & Eliza to one lucky winner today. To enter, tell us in the comments below what has captivated you most about Alexander Hamilton – then complete the Rafflecopter form below to complete your entry and earn more chances to win.
U.S. only. Contest runs through midnight (PT) on Wednesday, April 26th.
Save
Save
Save
Save
Save
Savea Rafflecopter giveaway
https://widget-prime.rafflecopter.com/launch.js
Save