Today, we're teaming up with our friends at Disney-Hyperion to celebrate the upcoming release of The Dark Prophecy by Rick Riordin, the second book in his Trials of Apollo series. And since Apollo is the God of Music, Poetry, and the Sun — all things that can brighten our day — we wanted to feature 5 Ways to Brighten a Book-Lover's Day! (Plus, keep reading for your chance to win a Trials of Apollo prize pack.)
1. Ask about what they're currently reading!
One thing book-lovers enjoy almost as much as reading, is talking about what they're reading!
2. Take them to a bookstore.
Book-lovers love browsing the shelves at a bookstore — looking for old favorites, and new volumes to add to their ever-expanding TBR piles.
3. Support them when things don't go well for their favorite characters.
FEELS. Book-lovers have many of them, often about fictional characters. Don't poke fun; just be supportive.
4. Leave them alone!
Give that book-lover some quiet alone time so they can read in peace. Let them get lost in another world, binge-read a new tome, or just pet their books in solitude.
5. Read with them.
Or, if you want to spend some quality time with a book-lover, grab your own book and read next to them in companionable silence.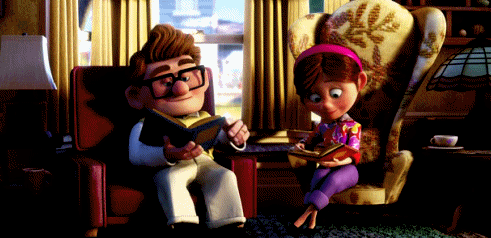 Apollo is the god of many things! To celebrate the release of The Dark Prophecy, three different prize packs will be offered in giveaways across the web inspired by Apollo's godliness– God of Music, God of Poetry, and God of the Sun. Collect them all!
We're giving away a God of the Sun Prize Pack! One (1) winner receives:
Copy of The Dark Prophecy
Camp Half-Blood sunglasses
The Trials of Apollo beach mat
To enter: tell us in the comments what brightens your day – then fill out the Rafflecopter to complete your entry and earn more chances to win.
Giveaway open to US addresses only. Prizing and samples provided by Disney-Hyperion. Contest runs through midnight (PT) on Monday, May 1st.

a Rafflecopter giveaway
https://widget-prime.rafflecopter.com/launch.js

The Dark Prophecy (The Trials of Apollo, Book 2)
By Rick Riordan
Published by Disney-Hyperion
In stores May 2nd, 2017
Zeus has punished his son Apollo—god of the sun, music, archery, poetry, and more—by casting him down to earth in the form of a gawky, acne-covered sixteen-year-old mortal named Lester. The only way Apollo can reclaim his rightful place on Mount Olympus is by restoring several Oracles that have gone dark. What is affecting the Oracles, and how can Apollo/Lester do anything about them without his powers?

After experiencing a series of dangerous—and frankly, humiliating—trials at Camp Half-Blood, Lester must now leave the relative safety of the demigod training ground and embark on a hair-raising journey across North America. Somewhere in the American Midwest, he and his companions must find the most dangerous Oracle from ancient times: a haunted cave that may hold answers for Apollo in his quest to become a god again—if it doesn't kill him or drive him insane first. Standing in Apollo's way is the second member of the evil Triumvirate, a Roman emperor whose love of bloodshed and spectacle makes even Nero look tame. To survive the encounter, Apollo will need the help of son of Hephaestus Leo Valdez, the now-mortal sorceress Calypso, the bronze dragon Festus, and other unexpected allies—some familiar, some new—from the world of demigods. Come along for what promises to be a harrowing, hilarious, and haiku-filled ride….
Official Links + Social Media
Rick Riordan, dubbed "storyteller of the gods" by Publishers Weekly, is the author of five #1 New York Times best-selling middle grade series with millions of copies sold throughout the world: Percy Jackson and the Olympians, The Heroes of Olympus, and the Trials of Apollo, based on Greek and Roman mythology; the Kane Chronicles, based on Ancient Egyptian mythology; and Magnus Chase and the Gods of Asgard, based on Norse mythology. Rick collaborated with illustrator John Rocco on two #1 New York Times best-selling collections of Greek myths for the whole family: Percy Jackson's Greek Gods and Percy Jackson's Greek Heroes. Rick lives in Boston, Massachusetts with his wife and two sons. Follow him on Twitter at @camphalfblood.
Save
Save