You guys, it's heeeere! Daughter of the Pirate King by Tricia Levenseller is in stores TODAY!
I loved this book SO much and I'm so excited it's out in the world now for all of you to buy, read, and enjoy. One of the reasons I love it so much is … PIRATES! We need more pirates in fiction! Why? Well, I'm glad you asked. Let me count the ways …
Top 10 Reasons Pirates in Fiction are Awesome
10. The rum is never really gone. At least, not when you have the perfect excuse to mix up a tropical cocktail to sip while you read.
9. Pirates say fun things.
8. Also, let's not knock a good sea shanty.
7. Pirates can basically do whatever they want, so when it comes to fiction, it means pretty much anything goes.
6. Pirates also have a sense of freedom. They can go anywhere, do anything. No rules. (Except the code. Keep to the code.)
5. They are filled with adventure on the high seas and discovering exciting, new places.
4. Crazy, intense battle scenes. Explosions! Cannon fire! Sword fights!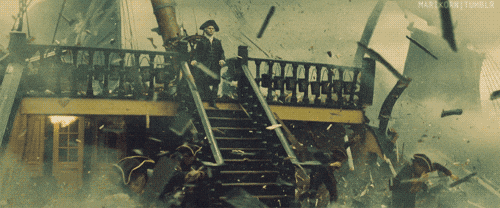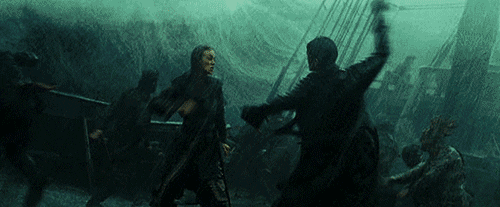 3. Swoon-worthy characters. Pirates in fiction tend to be the bad guys with a heart of gold, and who doesn't love that? Also: guyliner. So much guyliner.
2. Pirate stories can sometimes be incredibly romantic. (See above.)
1. As with Daughter of the Pirate King, sometimes you get some really kick-ass female characters. They have to hold their own against a bunch of scallywags, after all.
And now … what are you waiting for? Daughter of the Pirate King is in stores now – so go, go, go & get yourself a copy and start reading stat!
All this week, we are giving you a chance to win a copy of Daughter of the Pirate King thanks to our friends at Macmillan. To enter, tell us in the comments what do you love about pirates in fiction? — then fill out the Rafflecopter to complete your entry.
Be sure to visit all of our previous Daughter of the Pirate King posts to earn more chances to win. The more posts you visit & comment on, the better your chances!
Contest runs through midnight (PT) on Wednesday, March 1st and is open to the U.S. only.
a Rafflecopter giveaway
https://widget-prime.rafflecopter.com/launch.js
Save
Save
Save
Save
Save
Save