History comes alive in the new Mystery & Mayhem series from author Tom McCarthy — a new non-fiction series that aims to get young readers excited about history by sharing thrilling, real-life stories of adventure and intrigue. I love the concept of this series — and so far, I love the books in the series, too!
Today, author Tom McCarthy stops by to talk about his love of piracy that helped inspire one of the Mystery & Mayhem books (with Pirates of the Caribbean GIFs courtesy of yours truly) — then keep reading to learn more about the series!
I've always wanted to be a pirate. Who doesn't want to be a pirate? At least in books, pirates get to do whatever they want, whenever they want. They don't have to eat dinner at a certain time or brush their teeth before they go to bed or even take a bath if they don't want to.
The best thing about being a pirate, it seems, is that you get to sail on gnarly ships across wide-open seas. All that sunshine and fresh air is good for the brain! And even the occasional rainstorm is good because it takes the place of a bath. It's a pretty appealing life, when you think about it.
Stories about shipwrecks are fascinating for me, too. I've been drawn to these stories ever since I learned how to read, ages and ages ago. People in stories about shipwrecks are strong and cool and they never get flustered about anything. They are happy that they managed to survive disaster, and then they get on with things. They look around, see what kinds of resources they have at their disposal, and make the most of what is right in front of them.
Why do I admire this so much? Because that's life. Find a way to work with what you have, and you'll never be stuck. It's called being inventive, resourceful, innovative, smart, persistent, and happy. Give it a try. You don't even have to find yourself shipwrecked on a desert island to see if you have what it takes to survive—just try middle school!
I wanted to write about pirates and shipwrecks because I love learning real history about people. History isn't made of dates and events. It's made of people, just like you and me. History is dirty and tragic and fun and disastrous. I love it! The characters I chose to write about all faced incredible hardship, but they didn't let it beat them. They struggled through and managed to beat the odds. That's what history is all about.
Unless, of course, you're a pirate like Barbarossa, who didn't quite beat the odds. But that's another story.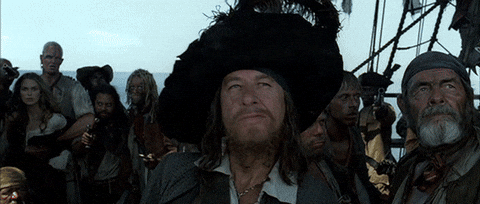 About the Mystery & Mayhem Series – An Overview
Pirates and Shipwrecks: True Stories and Survival: True Stories are the first two books in the Mystery & Mayhem series for 9–12 year olds, which features true tales that whet kids' appetites for history by engaging them in genres with proven track records—mystery and adventure. History is made of near misses, unexplained disappearances, unsolved mysteries, and bizarre events that are almost too weird to be true—almost! The Mystery & Mayhem series delves into the past to provide kids with a jumping-off point into a lifelong habit of appreciating history.
When Daniel Collins and the crew of the Betsey set sail for Cuba in 1824, they have no idea of the horrors that lie ahead. This is just one of the stories in a collection of five true tales about pirates and shipwrecks that introduces readers to the perils of the high seas.

Each of the true tales in Pirates and Shipwrecks, including stories about pirate Barbarossa and adventurer John Franklin, is paired with interesting facts about the setting, industry, and time period. A glossary and index provide the opportunity to use essential academic tools. These nonfiction narratives use clear, concise language with compelling plots, drawing in both avid and reluctant readers.
Tales of survival are as old as humanity! In Survival: True Stories, readers discover accounts of survival that required innovation, a thirst for adventure, and even a bit of brutality. Whether it's Shackleton on the frozen landscape of Antarctica or William Bligh and his loyal followers adrift in the Pacific after mutiny on the Bounty, survival is a fascinating topic for readers ages 9 to 12!

Each of the true tales told in Survival are paired with interesting facts about the setting, the industry, and the time period. A glossary and index provide the opportunity to practice using essential academic tools. These nonfiction narratives use clear, concise language with compelling plots that both avid and reluctant readers will be drawn to.
Tom McCarthy has been an award-winning writer and editor for more than twenty-five years. As an editor and ghostwriter for various publishers in New York City, Maine, and Connecticut, he developed and edited titles that have won such awards as Harvard University's Goldsmith Award for Book of the Year; 
Readers Digest
 Top Five Summer Books; 
Sports Illustrated's
 Top Books of the Year; and 
Esquire's 
The Year's Five Best Reads, among others. As the series editor for several best-selling collections, including
 Incredible Pirate Tales
, 
Ghost Pirates
, and 
Incredible Tales of the Sea
, he has developed a knack for finding great stories for readers of all ages. He lives in Guilford, Connecticut.
Save
Save
Save