A Heart So Fierce and Broken by Brigid Kemmerer has left my heart fiercely broken. The second book in the Cursebreakers series is chock-full of revelations and shocking twists and turns, and it left me an emotional mess.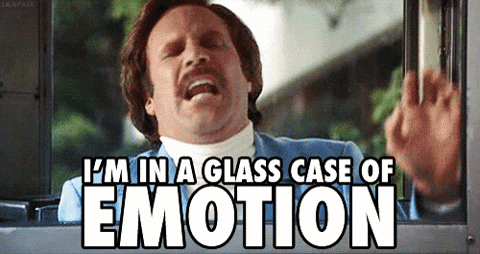 Me, after reading A Heart So Fierce and Broken.
This book gives us two new POVs to follow, fan-favorite Grey and new character, Lia Mara — and as eager as I was to read this book after finishing A Curse So Dark & Lonely, the ending of this second book has made me even more desperate for book 3. (Please write faster, Ms. Kemmerer.)
In the sequel to New York Times bestselling A Curse So Dark and Lonely, Brigid Kemmerer returns to the world of Emberfall in a lush fantasy where friends become foes and love blooms in the darkest of places.

Find the heir, win the crown.
The curse is finally broken, but Prince Rhen of Emberfall faces darker troubles still. Rumors circulate that he is not the true heir and that forbidden magic has been unleashed in Emberfall. Although Rhen has Harper by his side, his guardsman Grey is missing, leaving more questions than answers.

Win the crown, save the kingdom.
Rumored to be the heir, Grey has been on the run since he destroyed Lilith. He has no desire to challenge Rhen–until Karis Luran once again threatens to take Emberfall by force. Her own daughter Lia Mara sees the flaws in her mother's violent plan, but can she convince Grey to stand against Rhen, even for the good of Emberfall?

The heart-pounding, compulsively readable saga continues as loyalties are tested and new love blooms in a kingdom on the brink of war.
This book is not-to-be-missed for anyone who loved A Curse So Dark & Lonely, as it sees the fallout of the curse playing out throughout the kingdom. Though most of the book is spent with Grey and Lia Mara, we see Rhen struggling to lead a kingdom that questions his authority, and Harper fighting for her love, her new kingdom, and her friend Grey.
Meanwhile, Grey is forced to reckon with a new identity and come to terms with his fate, his magic, and what he must do. He can no longer be the loyal commander at Rhen's side; he must be something more.
Lia Mara is a fantastic new character, with a surprising and quiet strength that makes her an absolute delight to root for. She and Grey compliment each other beautifully, and I loved seeing them meet and begin to work together.
Of course, there is plenty still at stake — and sinister forces are at work behind the scenes, so even the ending of this book leaves us with some shocking twists. It makes the wait for book 3 agonizing, but don't let that stop you from picking up A Heart So Fierce & Broken. You'll want to know where this story goes next immediately, and then we can wait in agony for book 3 together.
Look for A Heart So Fierce & Broken in stores January 7th.