Oh, look — another glorious morning!
COME, SISTAHS! Okay, I know it's only July — BUT this month marks the 25th anniversary of Hocus Pocus — only one of the greatest Halloween movies of all time.
OF. ALL. TIME.
I'm old enough to remember when this movie first came out, and I loved it from the very beginning — and nostalgia has only made me love it more. Seriously, an October doesn't go by without at least one or more viewings of this movie.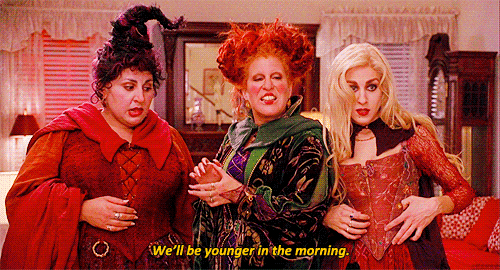 Which is why you can imagine my excitement over this month's release of Hocus Pocus & the All-New Sequel — a new book that includes (first) a retelling of the original movie in novel format, AND a sequel set 25-years later featuring Max and Allison's daughter, Poppy.
Yes. That's right.
A Hocus Pocus sequel.
Look, it's not the movie we're all still hoping for — BUT IT'S STILL HOCUS POCUS, OMG!!!
OKAY, I GET IT WINIFRED.
What ya'll are really here for isn't my gushing about Hocus Pocus — but this AWESOME giveaway I'm hosting in partnership with Disney Books!
First, many thanks to Disney for sending me this AMAZING BOX OF HOCUS POCUS GOODIES!
And now, the part you're actually interested in: winning this stuff for yourself!
WITCH, PLEASE.
Halloween comes early with the new two-part novel! One (1) winner receives:
A copy of Hocus Pocus & The All New-Sequel
custom Sanderson Sisters cookies
plus a branded "Witch, Please" t-shirt and mug!
Giveaway open to US addresses only. Prizing and samples provided by Disney Book Group. Contest is open through midnight (PT) on Thursday, August 2nd.

To enter – tell us in the comments below what you love most about Hocus Pocus — be sure to share favorite scenes & quotes — then fill out the Rafflecopter form to complete your entry:
a Rafflecopter giveaway
https://widget-prime.rafflecopter.com/launch.js
Hocus Pocus is beloved by Halloween enthusiasts all over the world. Diving once more into the world of witches, this electrifying two-part young adult novel, released on the twenty-fifth anniversary of the 1993 film, marks a new era of Hocus Pocus. Fans will be spellbound by a fresh retelling of the original film, followed by the all-new sequel that continues the story with the next generation of Salem teens.

Shortly after moving from California to Salem, Massachusetts, Max Dennison finds himself in hot water when he accidentally releases a coven of witches, the Sanderson sisters, from the afterlife. Max, his sister, and his new friends (human and otherwise) must find a way to stop the witches from carrying out their evil plan and remaining on earth to torment Salem for all eternity.

Twenty-five years later, Max and Allison's seventeen-year-old daughter, Poppy, finds herself face-to-face with the Sanderson sisters in all their sinister glory. When Halloween celebrations don't quite go as planned, it's a race against time as Poppy and her friends fight to save her family and all of Salem from the witches' latest vile scheme.
In stores now!
Hashtag #HocusPocusSequelNovel
Like Hocus Pocus on Facebook