Attention HAMILTON fans everywhere – another way to soak up the saga of one of America's earliest heroes is now at your fingertips, with this week's release of Love & War by Melissa de la Cruz, the sequel to Alex & Eliza, which chronicles the love story of Alexander Hamilton and Elizabeth Schuyler.
Since options to see the HAMILTON musical are limited, this is the perfect way to get your fix in – with a heavy emphasis on the love story between Alex and Eliza. Here's the synopsis for the first book, in case you missed it:
1777. Albany, New York.

As battle cries of the American Revolution echo in the distance, servants flutter about preparing for one of New York society's biggest events: the Schuylers' grand ball. Descended from two of the oldest and most distinguished bloodlines in New York, the Schuylers are proud to be one of their fledgling country's founding families, and even prouder still of their three daughters—Angelica, with her razor-sharp wit; Peggy, with her dazzling looks; and Eliza, whose beauty and charm rival that of both her sisters, though she'd rather be aiding the colonists' cause than dressing up for some silly ball.

Still, she can barely contain her excitement when she hears of the arrival of one Alexander Hamilton, a mysterious, rakish young colonel and General George Washington's right-hand man. Though Alex has arrived as the bearer of bad news for the Schuylers, he can't believe his luck—as an orphan, and a bastard one at that—to be in such esteemed company. And when Alex and Eliza meet that fateful night, so begins an epic love story that would forever change the course of American history.
And here's the synopsis for Love & War, in stores now:
1781. Albany, New York.

As the war for American independence rages on, Alexander Hamilton and Elizabeth Schuyler begin their new life as a married couple. Still, Alex is as determined as ever to prove his mettle and secure his legacy . . . even if that means leaving his beloved Eliza behind to join the front lines at the Battle of Yorktown. But when the war unexpectedly arrives on Eliza's doorstep, she must fight for a better future–for their fledgling country and for her marriage.

Yet even after the Revolution comes to its historic close, Alex and Eliza's happily-ever-after is threatened. Eliza struggles to build a home in the hustle and bustle of New York City just as Alex's burgeoning law practice brings him up against his greatest rival–the ambitious young lawyer Aaron Burr. And with Alex's star on the rise, Eliza can't help but feel neglected by a husband who seems to have time for everyone but her. Torn apart by new trials and temptations, can Alex and Eliza's epic love survive life in the big city?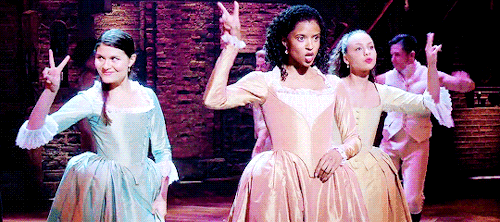 Here's some high praise for this series, as if you needed more convincing to check it out:
"The characterizations of Eliza as a clever and supportive wife and Alexander as a young husband whose drive often clouds his judgment contribute to the pull of the narrative, as does the blend of historical facts with plausible invented narrative. The popularity of the first in this series means a ready audience for this lively volume." —Kirkus

 "Alex is a commanding, articulate hero to Eliza's intelligent, strong-willed heroine and readers will be drawn into their love for each other.  Expertly infusing the crucial historical events occurring in late 18th century America, de la Cruz pens a truly wonderful read that will appeal to readers." —RT Book Reviews