Daughter of the Pirate King Takeover Week continues today, with a swashbuckling & swoon-worthy guest post from author Tricia Levenseller featuring her picks for the Top 3 Fictional Pirates. Be sure to keep reading for today's chance to win a copy of Tricia's book!
1. Captain Jack Sparrow
First up is, of course, Captain Jack Sparrow. He's not only one of the most well-rounded pirate characters ever created, he's also just plain entertaining. Johnny Depp really brings him to life with the way he walks (and even more hilarious way he runs),
http://giphy.com/gifs/run-Oj6pSAnFGPwsg
delivers his lines,
http://giphy.com/gifs/jack-sparrow-GAShmv9l1P95e
and holds himself.
http://giphy.com/gifs/thelastshipedit-22xjF9lXtWaLm
I love how Jack can be so contradictory, depending on the situation and his mood. In one scene, we get this from him:
http://giphy.com/gifs/screaming-sOQEBW1lQUsyQ
And in another, we get this:
http://giphy.com/gifs/pirates-of-the-caribbean-pKDrxPxuS4WMU
He convinces people into thinking he's an idiot.
http://giphy.com/gifs/jack-sparrow-Lvcueb6f5rReM
But really, he's the most brilliant out of all of them.
Above all else, Captain Jack is never dull. And he is never one to be described as predictable.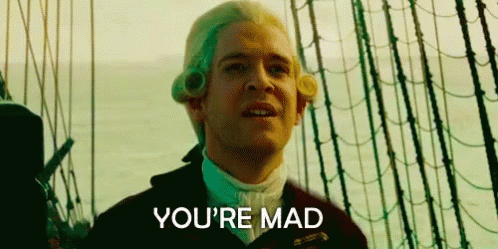 2. Captain Hook
Next, we have Captain Hook. I confess I am not all the way caught up on ONCE UPON A TIME. But let me say that I almost gave up entirely on this show, and then this guy enters.
http://giphy.com/gifs/captain-hook-s2Eimsyn5PXjy
And how do you ever want to look at anything else? He's more than just pretty, though. He's madly in love with the heroine of the show, and that just makes him even dreamier. He instantly becomes someone we can root for, even after he does things that make him a "bad guy." We want him to become redeemable.
http://giphy.com/gifs/captain-hook-unLXKFd3TcsFO
I love, love, love character development in stories, and watching Hook's transition throughout OUAT, is so much fun.
3. Sinbad
This last pirate is probably not one most would think of, but he is hands down in my top 3, and he's definitely my favorite animated pirate.
Sinbad
Maybe I like Sinbad most because he's so dang sarcastic, and he's matched with a witty heroine who challenges him throughout the story.
But he's more than just humorous—Sinbad is a good captain. He knows his crew and his ship inside and out, and I don't think that's something that's shown quite as much in other pirate stories. They seem to focus more on the character's individuality rather than explore their relationships with others.
Sinbad cares about his ship and crew and does everything within his power to protect them. That's something people can relate to even though most of us are not pirate captains. We all have things we care about and would die to protect.
If you haven't seen DreamWorks's SINBAD, I highly recommend it. The lead voice actors are Brad Pitt, Catherine Zeta-Jones, and Michelle Pfeiffer, if that sweetens the deal.
I really hope fictional pirates continue to show up on our TV screens. I'm just dying to add to this list.
All this week, we are giving you a chance to win a copy of Daughter of the Pirate King thanks to our friends at Macmillan. To enter, tell us in the comments who is your favorite fictional pirate? — then fill out the Rafflecopter to complete your entry.
Come back each weekday now through February 28th to see our latest Daughter of the Pirate King post and earn more chances to win. The more posts you visit & comment on, the better your chances!
Contest runs through midnight (PT) on Wednesday, March 1st and is open to the U.S. only.
a Rafflecopter giveaway
https://widget-prime.rafflecopter.com/launch.js
Save